VIETSTAR CRUISES INVESTMENT JSC.
Vietstar Cruises Investment, founded in 2018, specializes in providing luxury cruise and travel services that aim to showcase the beauty of Vietnam's stunning coastline. Drawing inspiration from the star, a symbol of perfection and high-quality, Vietstar Cruises strives to be a leading player in the luxury cruise business sector in Vietnam and Southeast Asia. Vietstar sets the industry standard by offering outstanding service, luxurious accommodations, and top-notch experiences to all customers while prioritizing sustainable development.
In August 2020, Vietstar Cruises Investment launched the first cruise line –  Capella Cruise – in Halong & Lan Ha Bay. Capella Cruise presents a new level of luxury and sophistication in retreat experiences on the world heritage site Halong and the neighboring area. Featuring 30 opulent guest rooms and a range of outstanding facilities, including restaurants, a four-season jacuzzi & swimming pool, bar, spa, lounge, club, and diverse entertainment options, Capella Cruise represents a pioneering luxury cruise, setting standards for all high-end cruise lines in the fleet operated by Vietstar Cruises Investment JSC.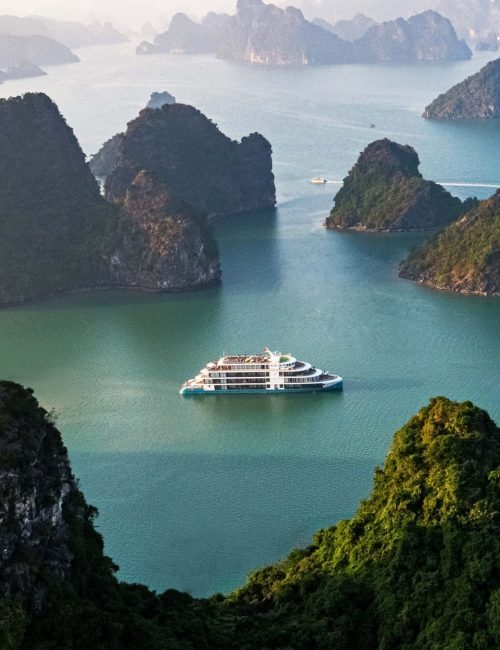 Vision & Mision
Our Vision: To develop a top-quality international cruise fleet that serves both domestic and foreign tourists. Vietstar Cruises aim to create a reputable, high-class, and top-quality cruise brand in Vietnam, maximizing the potential of sea resources in the tourism industry.
Our Mision:
✔ Become the leading company in investment and development of high-end cruise in Vietnam.
✔ Invest and operate based on sustainable development and responsible tourism standards.
✔ Deliver top-notch experiences that meet international standards for domestic and international tourists.
✔ Prioritize building a team of professionals in an open-minded and ideal working environment that supports the sustainable development of each individual.
Our Values
Values of Vietstar Cruises are carefully considered in every made decision related to:
To our customers: service from the heart.
To our partners: respect and strong commitment for a win-win relationship.
To our people: opportunity for "the better WE tomorrow".
To the society: responsibility for nature, environment and community