As we return to sea, your health and safety remain our top priority. We've partnered with expert medical and scientific minds to guide us in the development of comprehensive protocols to protect you. And we're working with health authorities to ensure we meet all current travel requirements. We're continually evaluating these protocols and will make updates as public health standards evolve.
REQUIREMENT FOR PREVENTION & CONTROL OF COVID-19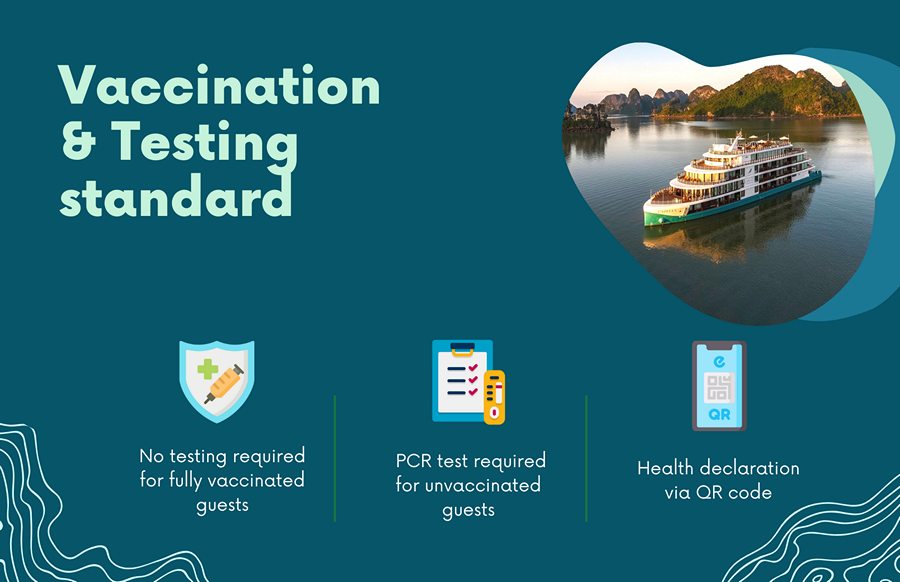 BEFORE CRUISE

Booking Confirmation
Contact details of all guests required to provide all necessary information and important updates ​
Prepaid onboard packages are available for booking prior to the cruise to help guests avoid queues, secure space and save money compared to onboard prices.

At embarkation
Health and COVID 19 screenings for all guests including health declaration via QR code and a temperature check, at the terminal before boarding.
Boarding denied to any guest showing signs of illness or in case of exposure to a case of COVID-19 (14 days prior to embarkation)

Terminal and Embarkation
We've redesigned our embarkation process with assigned arrival times indicated in the cruise ticket to minimise contact and enable responsible social distancing
The terminal and gangway areas will be thoroughly cleaned and sanitised according to the same high standards as onboard
Guests will be asked to wear a face mask during embarkation, while in the terminal, during cruise at certain public area and outdoor activities.
Your hold and hand luggage will be sanitised
Embarking and disembarking guests will not cross the same walking paths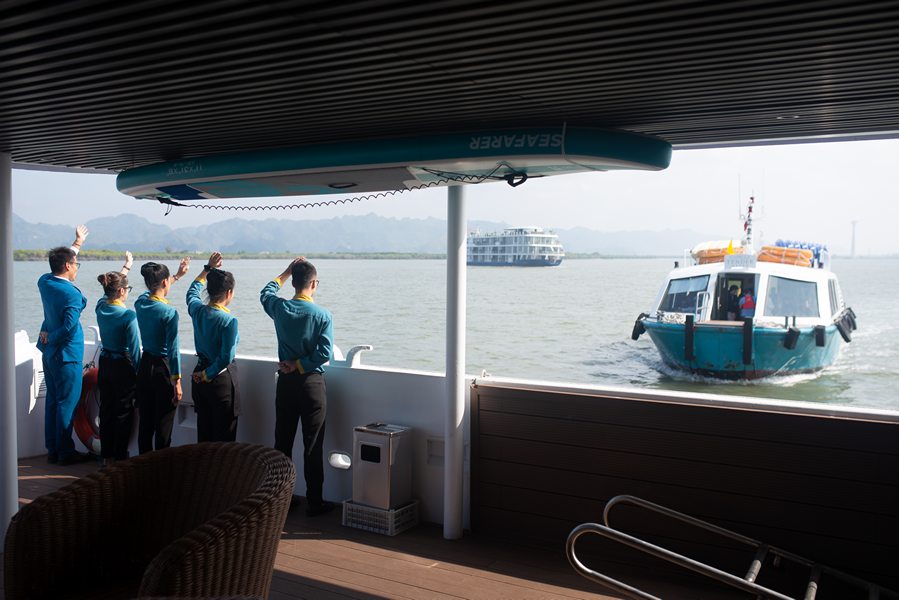 DURING CRUISE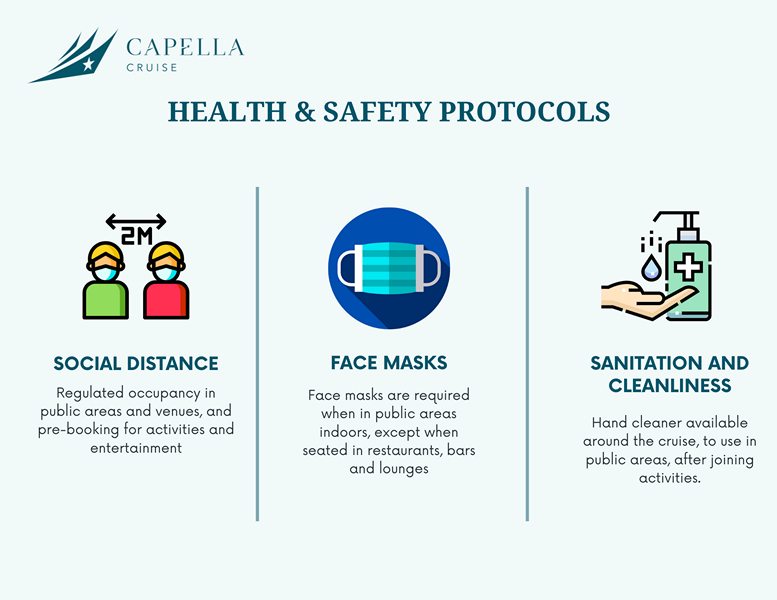 Responsible Social Distancing
Regulated occupancy in public areas and venues, and pre-booking for activities and entertainment​
Face masks are required when in public areas indoors, except when seated in restaurants, bars and lounges.
Use of UVGI
Ultraviolet germicidal irradiation, or UVGI, is the use of ultraviolet (UV) energy to kill viral, bacterial, and fungal organisms. UVGI fixtures produce UV-C energy, which has shorter wavelengths than more penetrating UV-A and UV-B rays and pose less risk to human health. Upper-room UVGI refers to a disinfection zone of UV energy that is located above people in the rooms they occupy. This kills airborne pathogens in the room where they are released. Fixtures are installed to prevent direct UV exposures to people in the room

Standards of Sanitation and Cleanliness
New cleaning methods including the use of hospital-grade disinfectants
Cabins cleaned daily, with additional deep sanitation at the end of each cruise
100% fresh, external air supplied to all cabins and public spaces, with no recirculation
Hand cleaner available around the cruise, guests are recommended to use in public areas, after joining activities.
The air conditioner is filled with 100% fresh, filtered air continuously supplies clean air indoors by taking in and filtering the ocean air.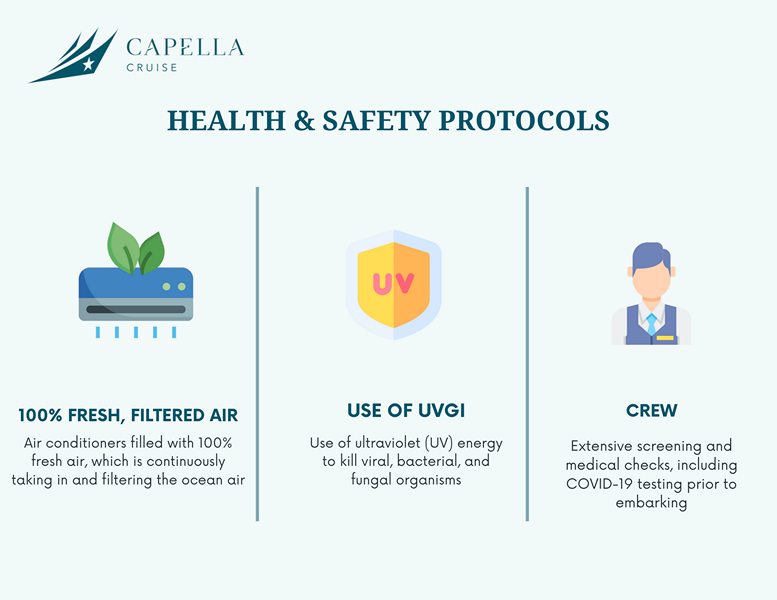 100% Fresh, Filtered Air
The Capella cruise is the only cruise on Lan Ha Bay to equip air conditioners filled with 100% fresh air, which is continuously taking in and filtering the ocean air. Fresh air from the outside will be supplied to each space through a separate air pipe system and then drained directly to the outside. This fresh air taking from the outside helps refresh your room, limit the micro-size viruses existing in indoor space, reduce the indoor airborne transmission of Covid 19 and supply clean air during your stay.

Medical Service and Check
Daily temperature check for all guests during the cruise.

Crew
Extensive screening and medical checks, including COVID-19 testing prior to embarking in addition to daily health monitoring and temperature checks​
Comprehensive training on the new enhanced protocol and use of protective equipment​
Crew members follow proper handwashing practices and wear protective equipment such as face masks and gloves.
The kitchen staffs strictly follow food serving standards, wear face masks & gloves while cooking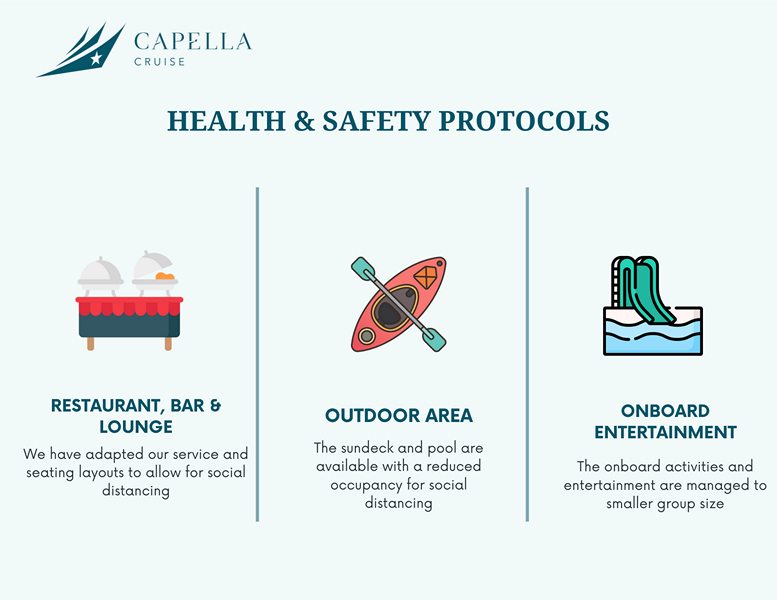 Restaurants, Bars & Lounge
We have adapted our service and seating layouts to allow for social distancing, and all meals and drinks will be served at your table.
Face masks do not need to be worn when seated in restaurants, bars and lounges, only when entering the venue.

Onboard entertainment activities
The onboard activities and entertainment for smaller group sizes are available upon reservation
All recreational equipment, fitness machines are sanitised after each use

Outdoor area
The sundeck and pool are available with a reduced occupancy for social distancing
All outdoor furniture will be sanitised after use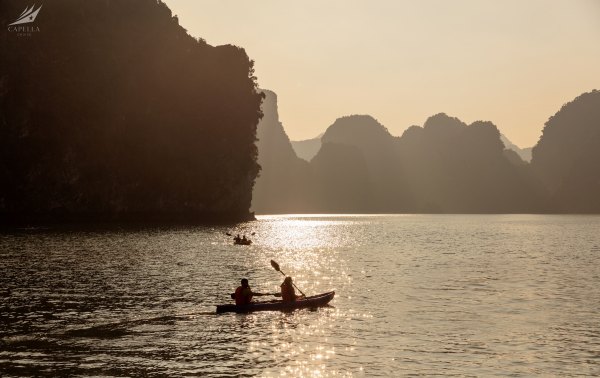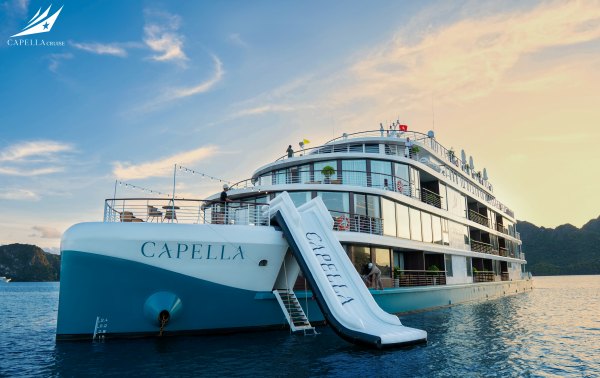 FREQUENTLY ASKED QUESTIONS
Do I need to wear a mask onboard?
Masks are NOT required to be worn:

In open-air areas of the ship, unless you are in a crowded setting
In the pool or any activity where they may become wet
At venues designated for vaccinated guests only, such as bars, lounges, restaurants.
In your stateroom when you are with your travelling party
Masks ARE required to be worn:
While indoors onboard the ship, unless seated and actively eating or drinking
While seating on tender, at the terminal
Do I need a COVID-19 vaccine to cruise?
All guests age 18 and older must present proof of COVID-19 vaccination, with the final dose of their vaccine administered at least 14 days before sailing. We will continually evaluate these requirements and make updates as local public health standards evolve.
Still have questions about our health & safety standards?
From pre-boarding testing to getting you back home safely, we've got answers.