4 DAYS 3 NIGHTS
Set sail for a trip of a lifetime in the heart of the bay
We offer you to go further to witness the vibrant local life and the hidden beauty of Mother Nature by enjoying more time on-board the modern and luxury Capella Cruise. Halong & Lan Ha Bay carry the beauty of a heavenly place on earth by day, and by night. Along with the majestic beauty, there are loads of exciting activities on and off board that can only be found only when cruising with Capella.
"The sample itinerary and timeline stated here is for references only, and is subjected to changes in accordance with weather and other operating conditions. For precise timeline of your tour, please refer to the updated intinerary available after check-in."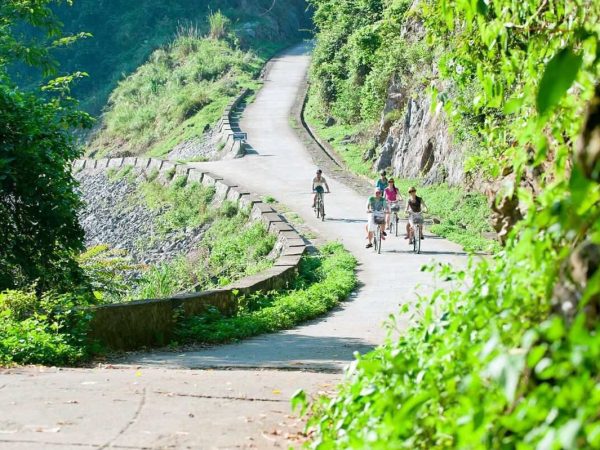 Cycle in Viet Hai Village
Located remotely on Cat Ba Island, Viet Hai Village has charmed many tourists for its ordinary beauty and lovely locals. Take a ride to the village while enjoying the serene nature along the road and try authentic lunch in Vietnamese style.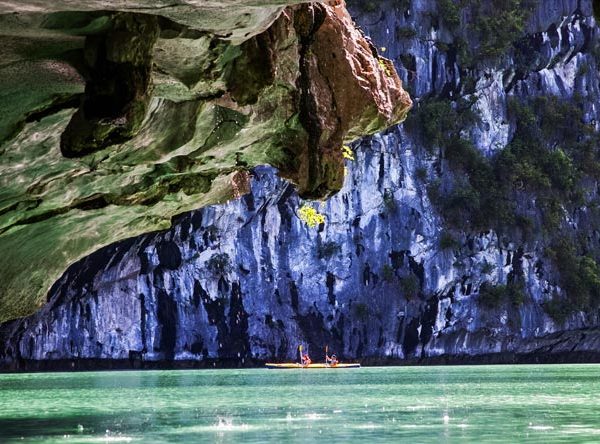 Explore Dark & Bright cave
The best part of visiting this cave is seeing how the lightning played out while you're being driven through by a traditional rowing-boat. Its limestone structure  and natural habitat will definitely intrigue you.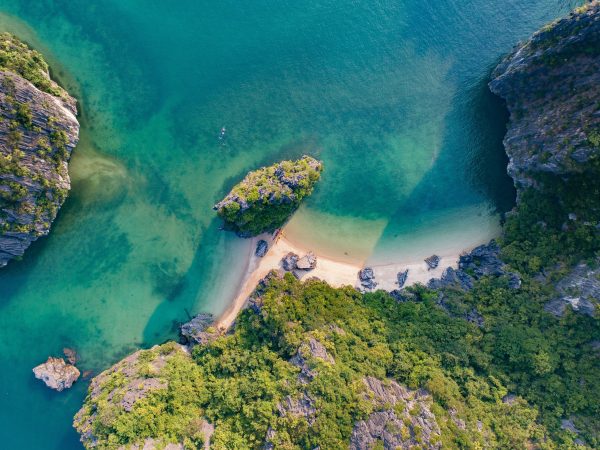 Swim at Three Peach beach
This white sand beach is surrounded by calm & pristine emerald water. You can swim the cool sea or choose to relax on the beach getting tanned under the gorgeous azure sky.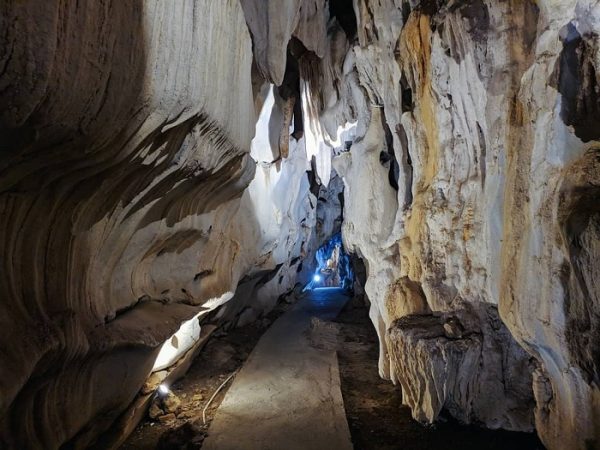 Visit Trung Trang Cave
Trung Trang cave has a length of about 300m through the mountain with thousands of stalactites in various shapes, offering geological values with a typical cave ecosystem.
4-day-3-night Capella Cruise Itinerary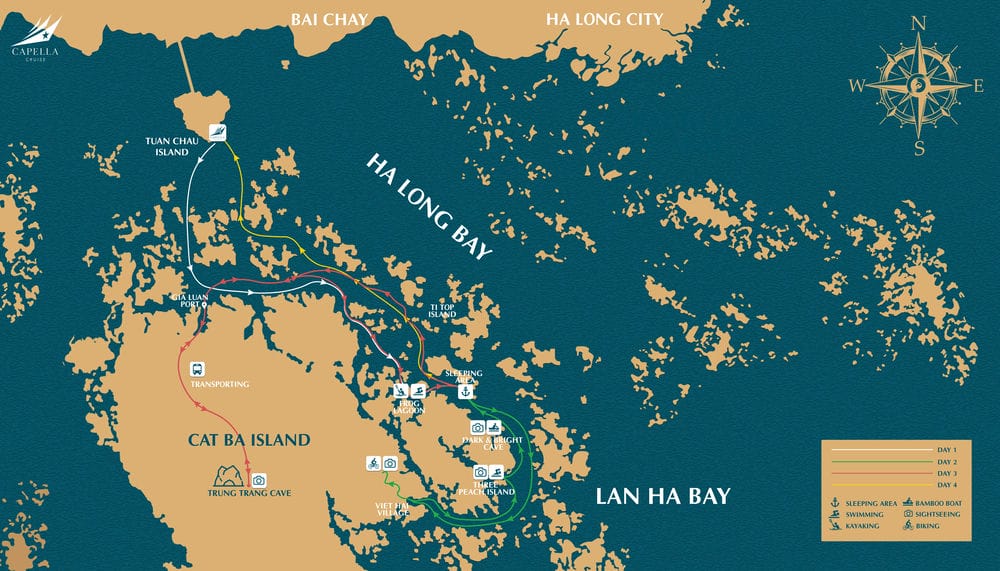 Day 1 highlights
Attraction: Lan Ha bay, Frog Lagoon
Onboard activities: Waterslide, Oasis Pool & Jacuzzi, Cooking Demonstration, Happy Hour, Squid-fishing
Offboard activities: Kayaking/ SUP in Ha Long Bay
Day 2 highlights
Attractions: Viet Hai Village, Three Peach Beach
Onboard activities: Waterslide, Oasis Pool & Jacuzzi, Cooking Demonstration, Happy Hour, Squid-fishing
Offboard activities: Visiting Viet Hai Village, Swimming in Three Peach Beach
Day 3 highlights
Attraction: Cat Ba Island, Trung Trang Cave, Frog Lagoon
Onboard activities: Morning Tai Chi, Tea/Coffee Ceremony, Oasis Pool & Jacuzzi, Squid fishing, Sunset Party, Waterslide
Offboard activities: Cave exploring, sight-seeing, kayaking
Day 4 highlights
Attraction: Dark & Bright Cave
Onboard activities: Morning Tai Chi
Offboard activities: Rowing-boats to Dark & Bright Cave
Check-out from 9:00 to 9:30 A.M.
Inclusion
 3-night accommodation at a Capella's suite (all featured with private balcony/terrace and ocean-view bathtub)
 9 meals onboard & 1 meal in Viet Hai Village
 Happy Hour – Buy 1, Get 1 Free (17:30 – 19:00)
 Access to facilities: Oasis Pool & Jacuzzi, Inflatable Waterslide, Mini-golf Course, Cigar & Poker Club
 Onboard Activities: Morning Tai Chi Class,  Squid-fishing, Swimming, Kayaking, Tea/ Coffee ceremony, Cooking Demonstration, Happy Hour, Sunset party
 Offboard Activities: Cave-visiting by rowing boats, Visiting ancient village by bicycles or electric-cars, Experiencing beach, Cave Exploring
 English-speaking guide onboard
 All entrance fees & sightseeing fees
Exclusion
 Round trip transfer Hanoi – Tuan Chau – Hanoi
 Drinks & Spa service
 Stand-up paddleboard
 The Sea Melody Mini-Theater
 Personal expenses and tips
 VAT
Program & Service Notes
 The itinerary can be changed without prior notice.
 The timing of this itinerary is estimated, and the exact time will be informed before departure time.
 All activities are included and optional. You can stay on the boat and relax instead of joining outside activities.
 Beverage is not included as in the program.
 Standard menus onboard are served for all customers. If you'd like to request a special diet, please inform us at least 24 hours before the departure.
 Please bring your ID Card/Passport for the check-in/check-out procedure
 Free wifi is available onboard, but please keep in mind the connection and phone signal might be lost or get weak once the cruise is on the move and passing by mountains.