2 DAYS 1 NIGHT
Immerse in the majestic green of the legendary bay
Embark on the best leisure and recreation cruise in the World Heritage site to experience the breathtaking scenery of Ha Long Bay, while getting a once-in-a-life-time treat onboard the modern and luxury Capella. Be indulged by the exquisite culinary experience and relax in opulent suites. Have a blast on the signature waterslide, heated Oasis pool and jacuzzi towards magnificent views.
"The sample itinerary and timeline stated here is for references only, and is subjected to changes in accordance with weather and other operating conditions. For precise timeline of your tour, please refer to the updated intinerary available after check-in."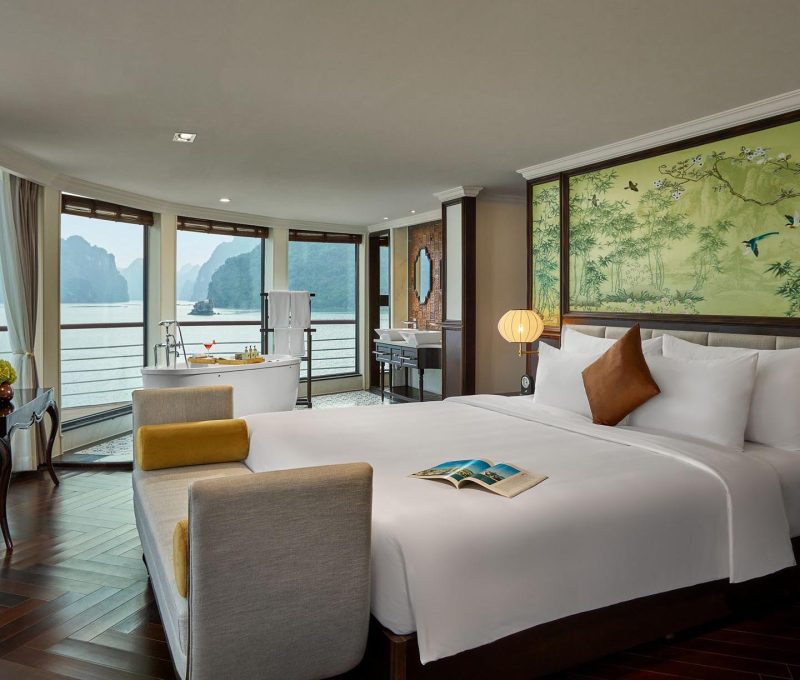 Delightful voyage
Embark on a delightful 2 days 1 night journey filled with joyous vibes and cherished memories aboard the finest leisure and recreation cruise in Halong & Lan Ha bay.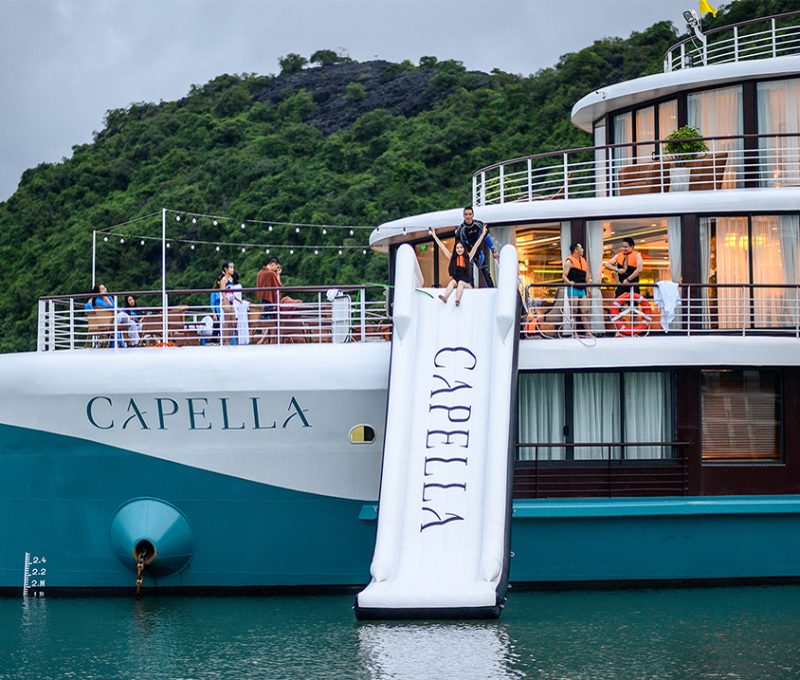 Thrilling activities await
Immerse yourself in the awe-inspiring beauty of Lan Ha Bay, where a multitude of thrilling water activities await, ensuring an unforgettable adventure filled with breathtaking scenery.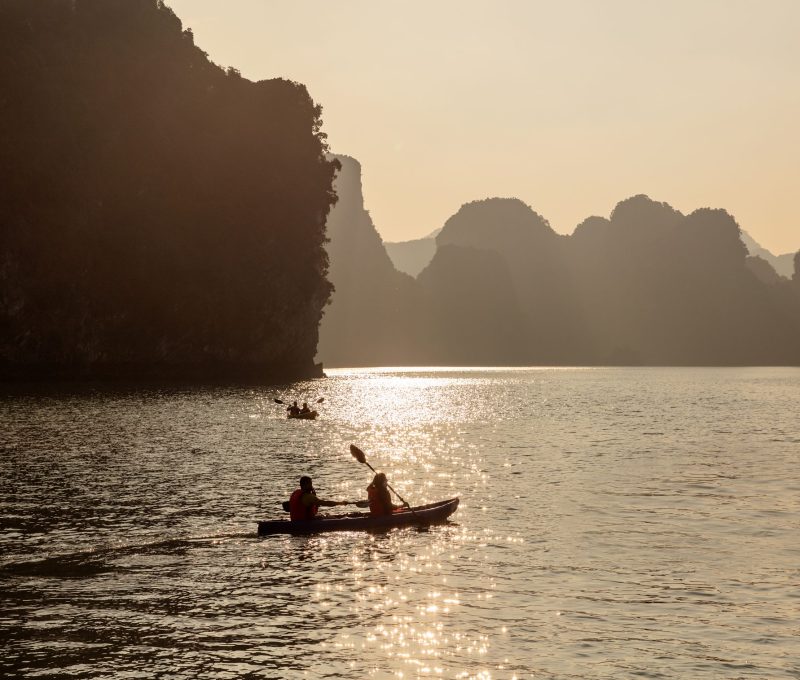 Kayak/ SUP in Frog Lagoon
This unspoiled area is where you can kayak or try out stand-up paddle while soaking in the mesmerizing views of the bay. Being surrounded by limestone towers, the water here is stable for perfect water activities.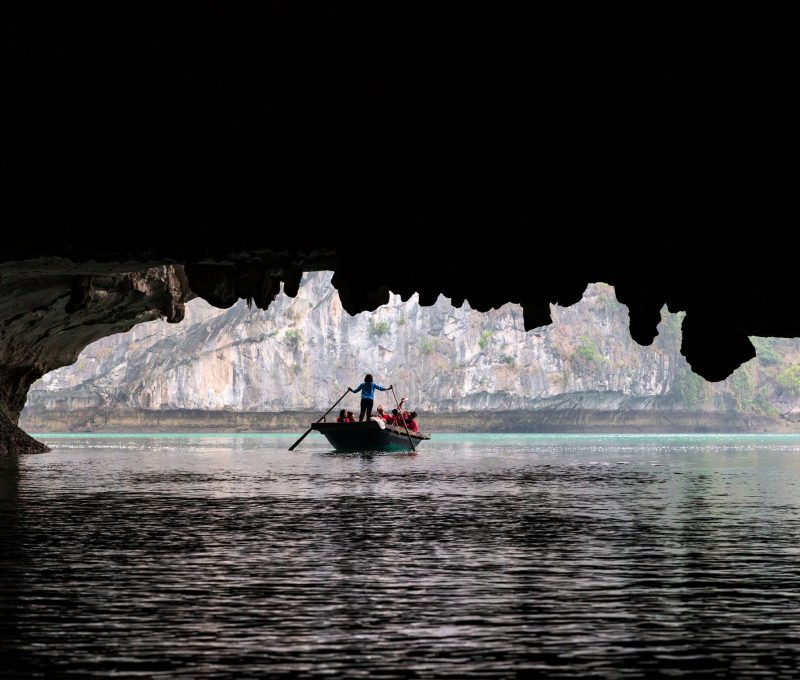 The best part of visiting this cave is seeing how the lightning played out while you're being driven through by a traditional rowing-boat. Its limestone structure  and natural habitat will definitely intrigue you.
2-day-1-night Capella Cruise Itinerary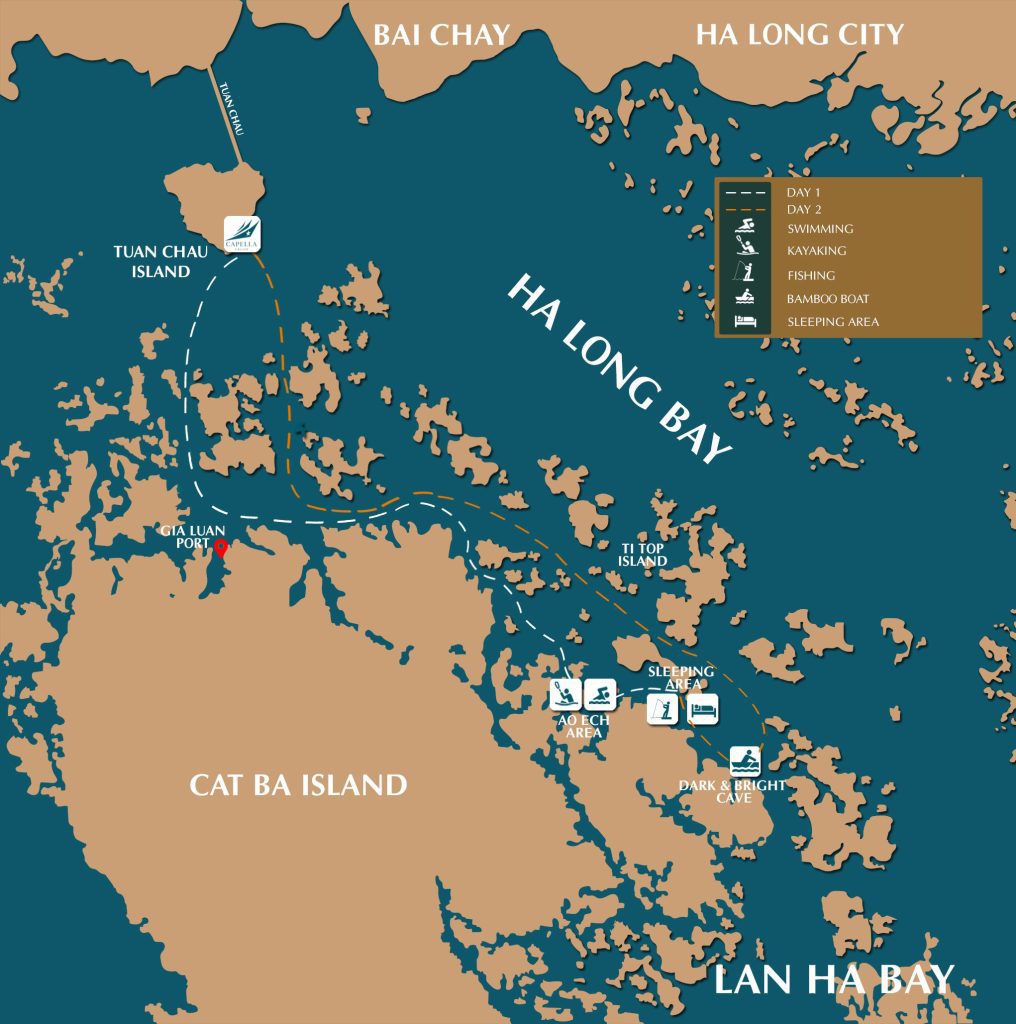 DAY 1
Attraction: Frog Lagoon
Things to do: Waterslide, Oasis Pool & Jacuzzi/Floating Ocean Pool, Cooking Demonstration, Happy Hour – Buy 2 Get 1, Squid-fishing
Activities: Kayak/SUP in Ha Long Bay
---
DAY 2
Attraction: Dark & Bright Cave
Things to do: Tai Chi
Activities: Rowing-boats to Dark & Bright Cave
Check-out from 9:00 to 9:30 A.M.
Inclusion
---
Exclusion
---
Program & Service Notes
---