CAPELLA CRUISE
Officially launched in Augusts 2020, the grace of Capella Cruise has brought fresh air into the bays. Join us to embark on a unique journey to rediscover the pristine scenery and rejuvenate your inner peace in the World Heritage site. Going to the further sides of Lan Ha Bay on a refined overnight cruise with your loved ones. Let all your senses be embraced by emerald green ripples from a remote beach, the story of stalagmites and stalactites inside a cave, and the raw beauty of a forested island.
State-of-art Architecture
Capella's architectural marvel pushes the envelope of what is possible on a cruise ship. She has debuted a sophisticated design blended perfectly with nature while letting our passengers soak in all the views from wherever onboard. Sailing with Capella is not only about traveling to the hidden sides of the legendary bays, but it is also an opportunity of unleashing imagination and be inspired by the impeccable experience.
Mobile "Green" Living Space
30 cabins are created as suites with large glass windows and ocean-view bathtubs so that all visitors can enjoy the splendor of Ha Long & Lan Ha Bays in their own spaces. Our ethos towards sustainable cruising is crucial, which is reflected in the details. Only the freshest air and water will be provided to our guests. We also limit the maximum of waste off the ship by engaging hi-tech.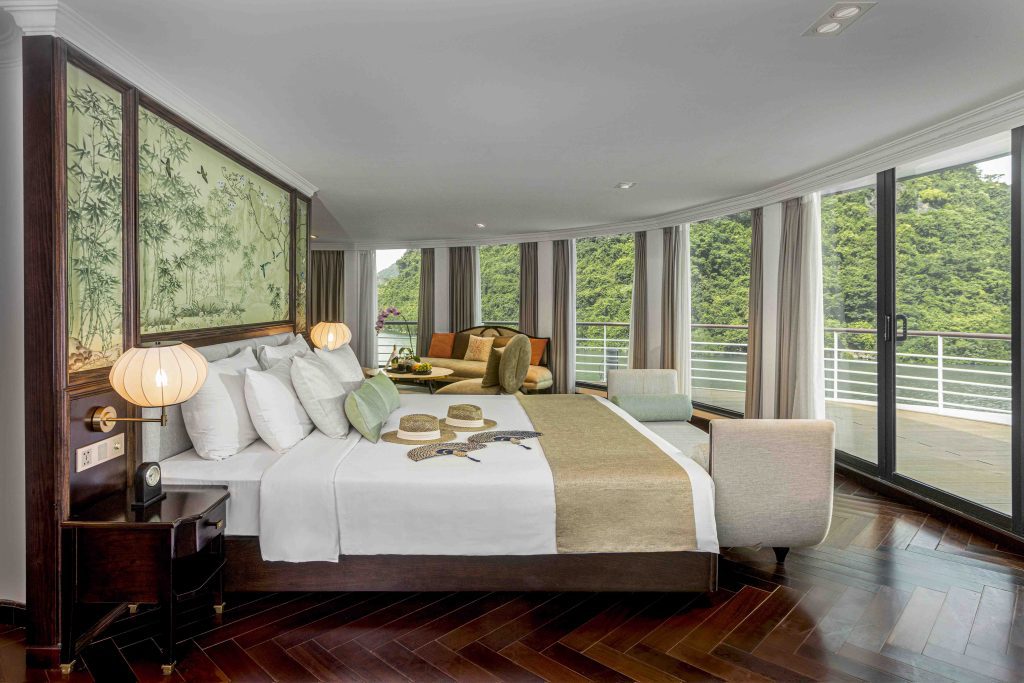 Leisure & Recreation Focus
We love hosting a joyful time on Capella Cruise, where everyone can gather and make unforgettable memories. Across the ship, incredibly spacious public areas spread over 6 decks and designed with different tones, from chillaxing Oasis Pool & Jacuzzi to a more thrilling waterslide. Other spaces like the lounge, the mini-theater, and the poker club are suitable for a more mellow atmosphere. Our sundeck is the go-to spot to watch the dazzling sunset and sunrise moments in the bays.
Delightful Service Delivered with Smiles
"Detail-oriented, considerate, dedicated" are some of many compliments to the Capella crew given by our guests. Our team of friendly and service-minded individuals will assist you best with any questions or concerns. We also invest in training, making sure safety processes and procedures are practiced regularly. The team is professional and very proud of the World Heritage site that we would eagerly love to show our guests, sharing more stories about the gorgeous destinations and local culture.