WELCOME ABOARD CAPELLA CRUISE, THE FIRST MELODY! 
Officially launched in Aug 2020, CAPELLA cruise would like to introduce a new standard of cruising in Ha Long & Lan Ha bay – more intimate and luxurious.
The ship design is a harmonious combination of the modern superyacht and elegant Indochina ambiance. With 30 tasteful cabins on 6-decks, Capella offers a luxurious yet relaxed cruise through the magnificent limestone landscape.
Indochinese architecture and interior have always been a source of infinite inspiration for designers since the 19th century. But to us, honoring the essence of Indochinese beauty has reached another level, and that is why Capella Cruise came to life as a perfect combination between Indochinese ambiance and modern breath.
Capella's design sings the symphony of beauty and convenience, classic and avant-garde. It blends a beautiful vintage wooden interior with a stunning modern exterior. Capella Cruise redefines contemporary luxury with 30 cabins on 5 floors with state-of-the-art facilities, offering our guests the magnificent view of Lan Ha Bay in the finest comfort of your cabin.
Capella not only has stunning design but also provides superb services. With our carefully chosen menu, marvelous amenities, and attentive, professional crew, your experience is promised to be out of this world. Unlike recent architecture designs of hotels in Asia which simply copy the cosmetic appeal and follow trends, Capella's design is a concept inspired by history. Modernized An Nam design style accumulating the delicate and luxurious aesthetic essence of the West culture but intermingling with the gentle serenity of the Eastern culture and the Vietnamese soul. Everything is reminiscent of a time that is far away but not old, leading visitors to the symphony of the sea while feeling the different spaces of the cruise at ease.
From the finest of onboard amenities to exciting recreations and delightful dining experience, we take care of everything so that all is left for you to do is to enjoy and create unforgettable memories.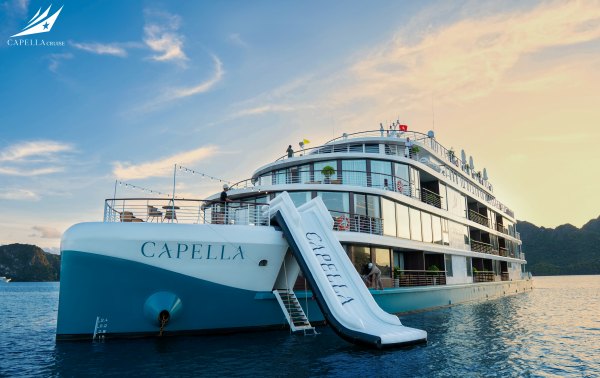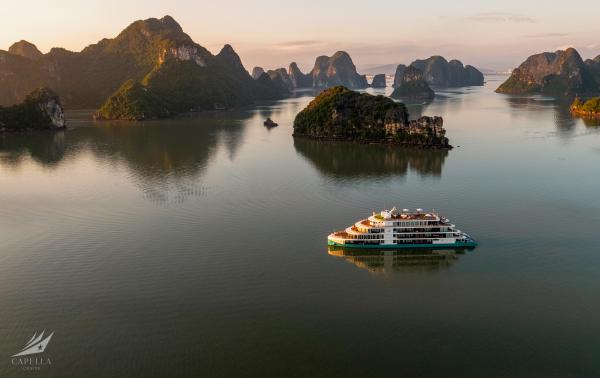 THE HAPPY TEAM AT CAPELLA CRUISE
The team at Capella cruise is happy to welcome you on board. A team of experienced and enthusiastic people to treat you as a friend visiting home but keep professionally in service.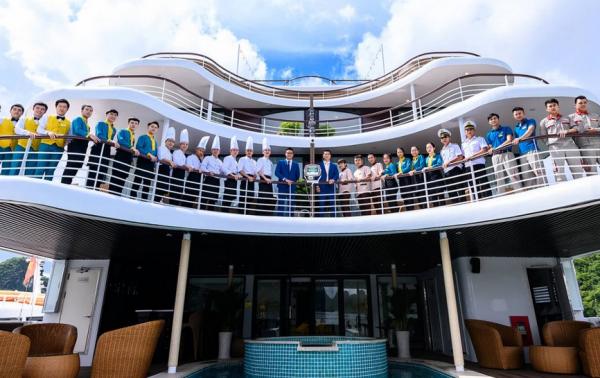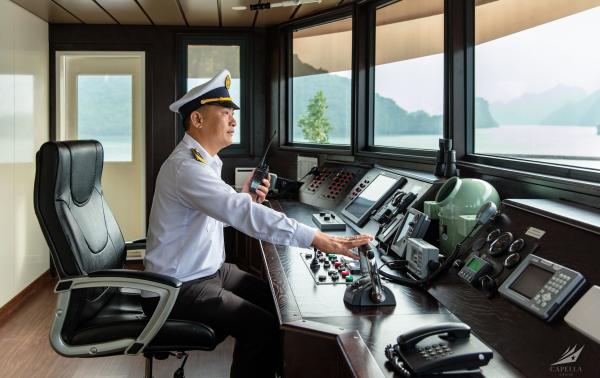 WHY CAPELLA CRUISE 
» The 5-Star contemporary luxury of a modern superyacht combined with Indochina ambiance
 » Exclusive cruise itinerary along the borderline of Lan Ha & Ha Long Bay with onboard activities and recreations for all ages.
 » 30 spacious suites with some of the largest entry-level, all feature an ocean-view bathtub, floor-to-ceiling windows plus full balconies with outdoor furniture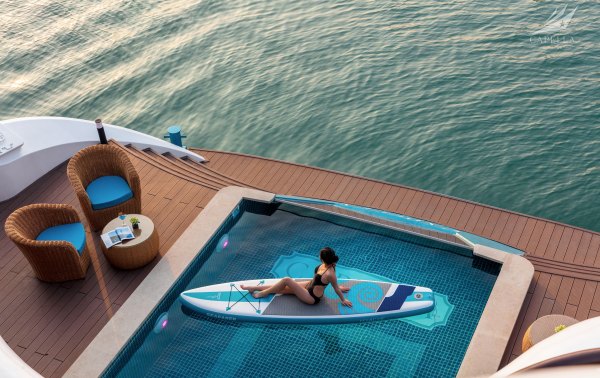 CAPELLA FOR LUXURY MICE EVENTS & PARTY
 » Maximum value: accommodation, meals, activities, and entertainment are all included in your customized package.
 » Maximum convenience: deliver state-of-the-art facilities for meetings, conferences, and special events for up to 70.
 » Maximum experience: enjoy both formal and informal session count with our experienced team facilitators, supportive crew dedicating to event organization